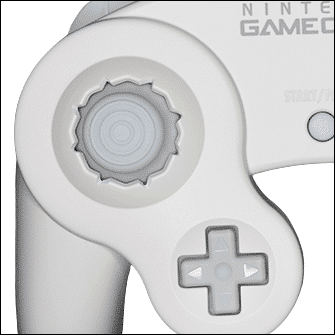 Full Left Notches
All the movement options to create the perfect analog gate for the GameCube Controller.
Ultimate movement
Step up your neutral game with more precise angles so you can out-space your competition.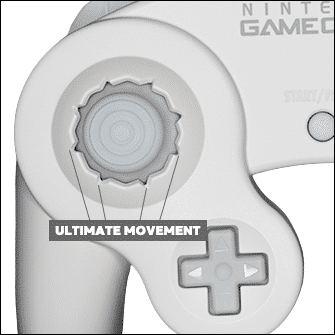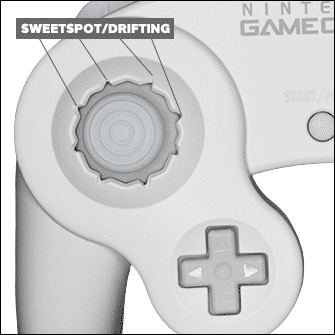 SWEETSPOTS
Hit the sweetspots at the ledge when recovering and precisely drift away from enemies.
C-STICK NOTCHES
Aesthetically pleasing, and although the game inputs an attack/tilt before reaching the c-stick notch, these notches help create another guide towards the attack/tilt that can help during those intense matches and feels better for some players based on their playstyle.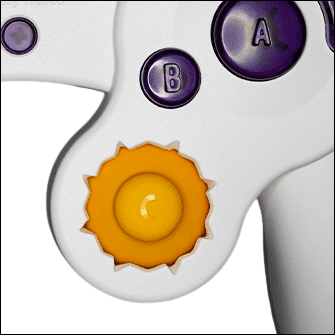 What are people saying about our controllers?
Absolutely love the controller.. already getting used to the notches after a few games and I'm ready to get ready for tournaments. Cheers. 10/10 order!
So far I'm in love with my Controller it really has helped me improve my tech skill & allows me movement that I really couldn't do that consistent on a regular controller. 10/10 definitely recommend if you looking to step up your skills & play competitive! ??
Seemed pricey at first, but was absolutely worth it immediately after purchasing. Especially after being let down time and time again, just trying to find a decent controller- this one is fantastic. Would absolutely buy again.
Build your own Modded GameCube Controller for Smash Ultimate.
Mods we recommend:
Full Left Notches
Snapback Capacitor
Button Pad Perforation
Lowered Buttons Height
Cut L+R & Lessen L+R Trigger Springs
More info on our modifications can be found here: Modded GameCube Controller Info
Check out Berleezy's Review on Youtube: MultiShine Controller Review
This controller build ships within 30 days.
This product is not eligible for returns or exchanges.
* Every controller is tournament-ready but might have scuffs as they're refurbished OEM controllers. Always consult with a tournament organizer about modifications allowed as each tournament may have different rules.
† Colored Button Set's Analog joystick, C-Stick, Z button, and triggers are left stock. We recommend if you're going to use this controller for tournaments as the colored sets have tight fitment that could impact your gameplay. We will include them with your order uninstalled.
‡ Swapping and Greasing a stickbox will mitigate the number of times the snapback or dashback issues occur if it doesn't remove it completely. A Snapback Capacitor mod eliminates the snapback. Due to the nature of competitive play, the controller may need to be serviced at a later time if you notice inconsistent dashdances or the snapback returns.
Please understand each controller may look different from the pictures provided as these modded Gamecube controllers are all modified by hand. Each controller's notches may look different and be placed in different areas of the analog gate as the motherboard is different on each controller.
Check out what Jackson has to say about his modded GameCube controller from MultiShine Controllers:
"I am no pro by any means but half my roster is in Elite Smash so you can say I play a lot of smash. I have been playing smash since 64 and even competed in Melee tournaments.
I spend a lot of time on smash so I figured why not upgrade to a beast mode controller.
This controller has changed my game drastically. I have only used it for 4 days now but I immediately noticed my movement game has increased significantly. I know this controller will help with wifi tournaments and spammy characters. I am currently maining wolf and pikachu and the sweet spot notches are so worth it. The controller it 100% worth the price.
This is my build if anyone is stuck looking for mods for their build:
white controller
full left notches
c-stick notches
stickbox swap + button pad perforation
cut and perforation on both triggers
x + b lowered. I jump with X
white colored buttons (these are only for looks)
I will be a returning customer"