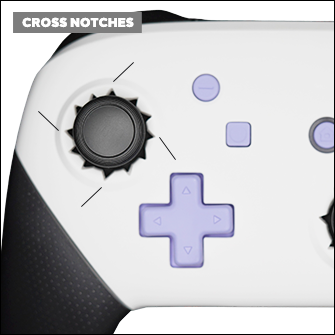 Cross notches
Get some more control with your Switch Pro controller. 
GAMECUBE NOTCHES
Designed for players who come from playing on or prefer the Nintendo GameCube Controller. We've replicated the notch design from that controller's analog gate. These notches will grant you more control than the original circle gate while giving you access to better angles for drifting away from other players, and sweet spotting recovery (Up-B).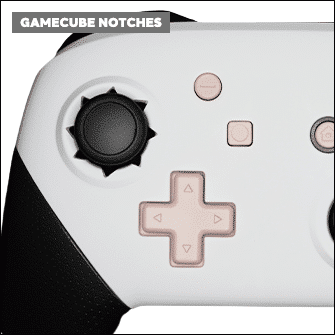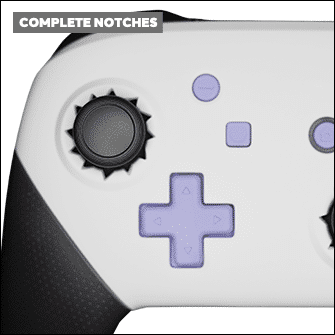 Complete notches
Unlock the full potential of your controller with all the movement options the Cross and GameCube Notches provide plus more specific angles for better sweetspots, drifts, and baiting options for movement.
What are people saying about our controllers?
Absolutely love the controller.. already getting used to the notches after a few games and I'm ready to get ready for tournaments. Cheers. 10/10 order!
So far I'm in love with my Controller it really has helped me improve my tech skill & allows me movement that I really couldn't do that consistent on a regular controller. 10/10 definitely recommend if you looking to step up your skills & play competitive! ??
Seemed pricey at first, but was absolutely worth it immediately after purchasing. Especially after being let down time and time again, just trying to find a decent controller- this one is fantastic. Would absolutely buy again.
This build includes the price of a Stock OEM (Nintendo Manufactured) Wireless (Black Transparent and Black Buttons) Nintendo Switch Pro Controller.
Need help deciding what mods to get? We recommend Both left and Right sides are fully notched with button pad perforation and your jump button lowered.
Please allow up to 1-5 weeks for a controller to be made and shipped out.
This product is not eligible for returns or exchanges.
More info on our modifications can be found here: Switch Pro Controller Mods
* Every controller is tournament-ready but might have scuffs as they're refurbished OEM controllers. Always consult with a tournament organizer about modifications allowed as each tournament may have different rules.
‡ Swapping and Greasing a stickbox will mitigate the number of times the snapback or dashback issues occur if it doesn't remove it completely. A Snapback Capacitor mod eliminates the snapback. Due to the nature of competitive play, the controller may need to be serviced at a later time if you notice inconsistent dashdances or the snapback returns.
Please understand each controller may look different from the pictures provided as these modded Switch Pro controllers are all modified by hand. Each controller's notches may look different and be placed in different areas of the analog gate as the motherboard is different on each controller.